Much of the contemporary performance art at this year's Frieze Londons explored the notion of identity and the final day of the fair was no exception. Frieze offered a series of multi-disciplinary performances navigating themes of race, gender, and sexual orientation.
Kicking off the afternoon's performances was Leeds-born YBA Georgina Starr, staging her work in the UK for the first time in ten years. The piece, titled Androgynous Egg, took inspiration from the artist's novel Empress 66 99 and incorporated an array of artistic practices, including puppetry, choreography and acapella melodies in both English and French.
The performers showered viewers with repeated words, fragmented phrases and an array of sounds, color, and visuals to create a surreal experience. Reminiscent of Dada sound poems, the experience felt almost claustrophobic in the purpose-built art fair filled with artistic objects.
Then it was time for the afternoon's headline event: The Singing Lecture, performed by two vocal artists. First up was American cabaret performer Mx Justin Vivian Bond. Accompanied by the acoustic guitar, her lyrics explored themes of sexual orientation, gender identity and reconciling religious beliefs while each song featured candid anecdotes and musings.
Following Mx Justin Vivian Bond was Angolan/Belgian artist Nástio Mosquito, performing a vocal piece in collaboration with Martin Hirsch of the Bauhaus University, Weimar. A mixture of spoken words and songs, the performance explores echoed and looped, building layers of meaning.
Concluding the fair's series of performance interventions was a queer art collective SPIT! (Sodomites, Perverts, Inverts Together!). Founded by Carlos Motta, John Arthur Peetz, Carlos Maria Romero and the performance was staged by performers Joshua Hubbard, Carlos Mauricio Rojas, Claudia Palazzo, Malik Nashad Sharpe, Daniel Brathwaite-Shirley, and Despina Zacharopoulou.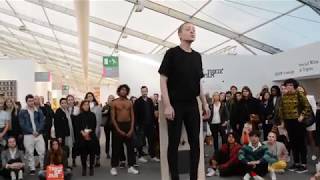 Having been invited to create a new performance piece to be premiered at this year's fair by Raphael Gygax (Curator at Migros Museum of Contemporary Art, Zurich and Frieze Project 2017 Curator), Carlos Motta and his fellow artists developed work in two parts exploring gender-based discrimination and oppression. First came The SPIT! Manifesto Reader, a collection of queer manifestos dating from the 1960s to the present. Then a performance intervention took over half a decade of queer activism. The starting point of the movement was to create blending choreography, songs and spoken words in an attempt to highlight discrimination and oppression based on gender and sexual orientation and to negotiate contemporary queer politics.
Though manifesting in starkly contrasting ways, all the Frieze London 2017 performances used the human voice to challenge societal norms and to explore identity politics, some more concretely than others.